Welcome to our cosmetic and general dentistry office, where your smile comes first. We understand that you have countless options for whom you choose as your family dentist. It is our intent to show you what quality dentistry can mean for your smile. In addition to dental care backed by years of training and experience, our office is also a place in which patient comfort and convenience are prioritized. When you visit our Miami office, you can expect to be treated in the same manner we would treat our family. Your concerns are important to us, and we want to make sure all of your questions are answered so you understand what your options are to support, repair, or cosmetically enhance your smile. Whether your needs revolve around prevention, or you would like to improve some aspect of your smile with restorative or cosmetic care, know that you are in the capable hands of the doctor and team at the office.
Dr. Brandon Kroll graduated from Tufts University of Dental Medicine after receiving his Bachelor's degree in biology from the University of Rochester. He grew up on Long Island, New York, and lived in Boston for eight years while attending Tufts, and then starting as a practicing dentist in 1998. In 2005, Dr. Kroll moved to Phoenix and opened North Scottsdale Dental.
Dr. Kroll is dedicated to providing the highest quality family and cosmetic dentistry to his patients in a professional, relaxed environment. In order to provide the best possible service, he engages in continual education and training on the newest dental technologies, techniques, and materials—so his patients always have access to the latest dental innovations and enjoy a pain-free, relaxing experience.
Shawnie moved from Seattle, WA to attend Rio Salado's Dental Hygiene Program and received an academic scholarship to Northern Arizona University's Dental Hygiene Bachelor Program. In addition to working in private practice, she is a clinical representative and educator for Young Dental. Shawnie is an active member of the American Dental Hygiene Association and her local component study clubs. Her favorite aspect of hygiene is educating and motivating patients to become healthier! When she's not busy helping patients with their oral health, Shawnie loves being on the lake, hiking, and traveling with her husband and daughter.
Liz grew up in New Jersey and moved to Arizona in 2000, she graduated from Northern Arizona State University, earning a degree in Bachelor of Science in dental hygiene. The most rewarding part of her job is helping her patients get the best optimal oral care.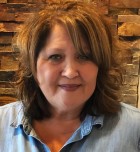 Penny was born and raised in Phoenix, AZ. She began her career in dentistry as a dental assistant and has over 40 years of experience in the field. Her background working clinically has given her great insight in her current role as the office manager. Penny enjoys making a difference and is proud to be a part of a team that genuinely cares. Away from the office, she enjoys shopping, cooking, and spending time with her family which includes 3 daughters, 1 son, and 4 energetic dogs!